Our dentists in Hamilton will provide patients with all of the information they need to know before, during, and after their orthodontic treatment. We have orthodontic options that fit all ages and lifestyles. Find out which treatment is best suited for you by booking your consultation today.
READY TO START YOUR PERSONALIZED ORTHODONTIC TREATMENT PLAN?
If you are considering traditional braces to get a straight smile, you've come to the right place. Our Hamilton dentists team takes care of smiles of all ages. Sometimes this is accomplished with the help of traditional metal braces.
WHAT ARE TRADITIONAL ORTHODONTICS, HAMILTON, ONTARIO?
Traditional orthodontics refers to standard braces that have been around for many years. They are made up of three parts: metal brackets, the bonding agent, and the metal wire. While many patients opt for new and improved ways to straighten their smile, we still encourage them to consider braces. They typically take around 24 months until the desired look is achieved and can offer kids and teens a fun way to add colour to their brackets.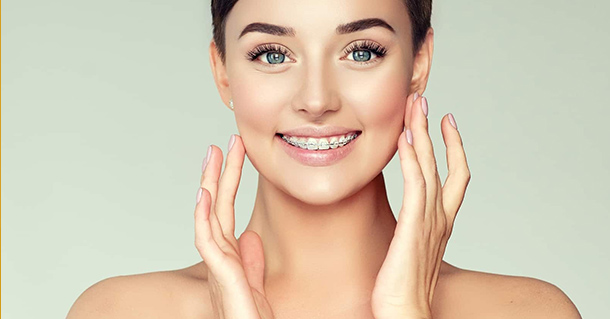 Although there are other alternatives to getting a straight smile, traditional orthodontics is one of the most effective ways to do so. For some teeth, there are problems that go beyond a simple straightening, and metal braces are one of the best ways to get the teeth to line up properly.
If you're looking for an alternative to metal braces, look no further than Invisalign. Adults and teens alike can now get straight teeth without the hassle of dealing with braces. Clear aligners are custom made for your upper and lower teeth through various stages. These aligners move them little by little until the teeth are aligned to their desired positions.
If you wake up in the morning with an aching jaw, it's possible that you're suffering from teeth grinding or jaw clenching at night. Wearing a custom made night guard can help you reduce these problems at night and protect your teeth effectively. Dr. Sims will work closely with you to determine whether a mouth guard is the best treatment option for you.
A sports guard can protect your mouth from any hits to the face. A guard works to cover the top teeth while also protecting your tongue, inside of your cheeks, and jaw. You should wear a mouthguard for any high contact sport, like football, hockey, or boxing.
BENEFITS OF HAMILTON ORTHODONTICS
Standard braces may work best on young patients since they are permanent. Parents won't have to worry about their children taking them out, losing them, or not wearing them during the day. Even though patients like Invisalign® aligners because they're removable and virtually invisible, sometimes they forget to put them back in or end up accidentally damaging them.
WHAT IS THE PROCESS FOR BRACES IN HAMILTON?
When you come in for a consultation, our Hamilton dentist, Dr. Sims, will perform an examination to see whether you are a good candidate for traditional braces. If you've decided to proceed, the next step is to do x-rays and take photographs and impressions of your teeth. From there, our team will develop a personalized dental care plan to align your teeth.

Everything about your dental care treatment plan will be discussed with you or your child and if you have questions, feel free to ask at any point. We will take as much time as possible to ensure you're comfortable and informed about the procedure, aftercare, and that you understand what needs to be for the health and functionality of your teeth.
GET STARTED WHEN YOU CONTACT US TODAY!
If you have any questions about braces and other orthodontic treatments, or if you'd like to schedule an appointment for a consultation, please call our office to book your next visit at 905-545-4833 or email us at [email protected].