Invisalign can assist in aligning your teeth or expanding your smile, addressing concerns such as misaligned teeth and a narrow smile. Discover how Invisalign can improve your smile.
Many dentists offer Invisalign as an alternative to traditional metal braces. Choosing Invisalign allows you to straighten your teeth, just like traditional metal braces, but without the noticeable appearance.
However, an Invisalign treatment can offer additional benefits that help improve your smile, on top of being a discreet method of straightening teeth.
What Are Invisalign Aligners?
Invisalign clear aligners are custom made transparent trays that are specifically designed to fit firmly over your teeth. You get multiple trays that need to be worn in a sequence that gradually shift your teeth into the desired position more and more with each tray you switch to, for straighter teeth.
Invisalign Clear Aligners vs. Traditional Braces
Both traditional metal braces and Invisalign aligners are effective at straightening crooked teeth and narrow smiles.
However, Invisalign is nearly impossible to see, and can be taken off, letting you eat and brush your teeth more easily than with traditional braces. They are also gentler on your teeth surfaces, and don't irritate your gums and cheeks, so many people find them more comfortable.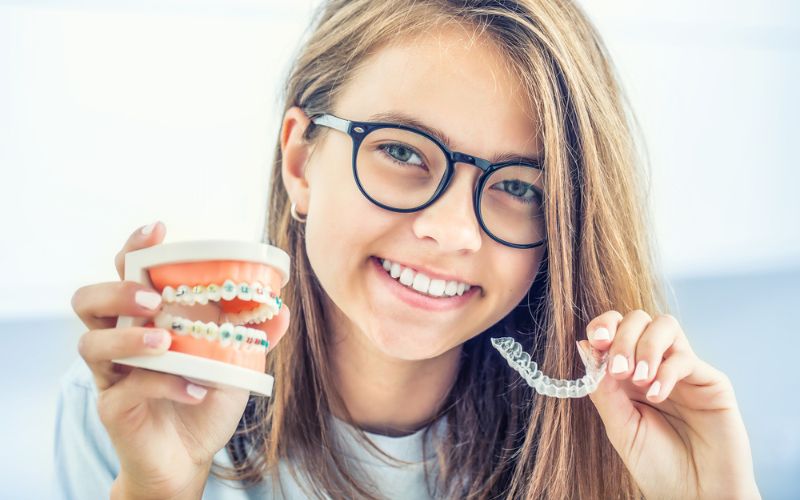 How Invisalign Works to Correct Gapped, Crowded, or Crooked Teeth
Finding a dentist who is experienced with Invisalign to develop your treatment plan is recommended.
Series of Custom Clear Aligners Made to Fit Your Teeth
X-rays and other diagnostics are completed to ensure you are a good candidate for treatment. If so, impressions of your teeth are made and sent out for your custom made trays to be based on.
When your Invisalign clear aligners are ready, your dentist will give them to you. You will get several sets of trays to wear in a set order. Each tray will give you slightly straighter teeth. Usually, each tray is worn at least 20 hours a day for two weeks, changing trays after each period, until you have straight teeth.
Your treatment can take as little as six months, but on average, it takes a year or two, depending on the severity of your tooth misalignment.
You'll see your dentist every six to eight weeks, to make sure your treatment is progressing properly.
Benefits of Choosing Invisalign for an Attractive Smile
Many patients prefer wearing Invisalign clear aligners, as they are practically invisible, and they can be conveniently removed for eating and brushing.
Oral Health Benefits
Because you can brush and floss more easily to care for your teeth, you are less likely to have plaque and tartar buildup that can lead to tooth decay and other oral health concerns. They don't irritate the cheeks and gums, which can also lead to oral health issues.
No Scratching or Staining
With Invisalign clear aligners, teeth are less likely to be scratched or damaged, which can sometimes occur with braces, as Invisalign aligners protect the teeth from grinding and other forces.
Metal braces can also leave stains on your teeth, affecting the appearance of them. Although these stains may fade, they are permanent unless treated by a dentist. However, with Invisalign, you don't need to worry about these stains affecting your smile.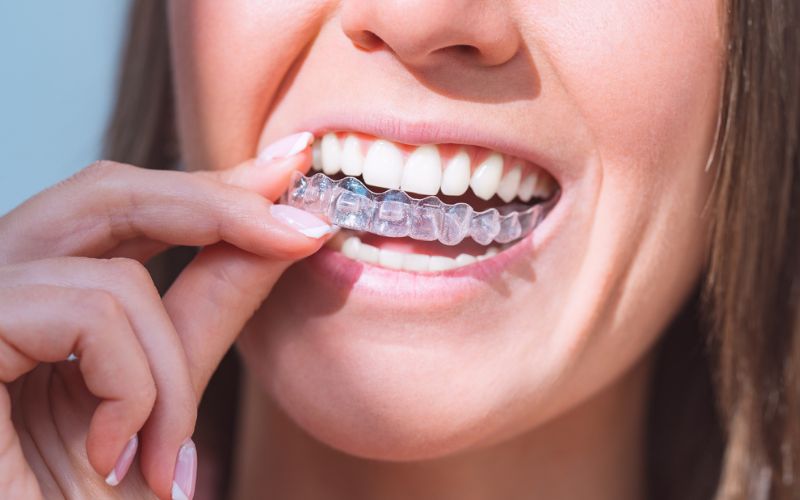 Correction of Both Misaligned Teeth and a Narrow Smile
Choosing Invisalign is an effective way to treat mild to moderate cases of crowded, gapped, crooked, and misaligned teeth. An Invisalign treatment can help create a more even-looking smile for a lasting impression.
In addition to correcting crookedness, though, Invisalign can help to improve your smile, not only by straightening patients' misaligned teeth, but by correcting a narrow smile for those with a narrow maxillary arch.
While other treatments may be used to expand the arch first, such as palate expanders, Invisalign may help afterwards to improve your smile. Invisalign works by shifting teeth to make it look like you have a wider smile. Even a small shifting of the teeth can create a noticeable impact.
Interested in Wearing Invisalign Clear Aligners?
Both teens and adults can benefit from an Invisalign treatment. If you have alignment concerns or a narrow smile, Century Stone Dental offers this option to patients who would prefer a more discreet alternative to regular braces, or who want to avoid the discomfort of metal brackets.
Our dentists are experienced in providing patients with Invisalign treatments. Book a consultation today to see if you are a good candidate.
Latest posts by Dr Christopher Sims
(see all)