When patients get braces, they often have a lot of questions as they adjust to life with orthodontics on their teeth – not being able to comfortably eat certain foods (like popcorn or corn on the cob), or having to brush and floss their teeth differently. But they also end up wondering how they'll get their teeth cleaned by their dentist regularly since metal braces are in the way.
The truth is, orthodontic treatment does not come with special teeth cleaning techniques. In fact, you'll continue to get your teeth cleaned in the same way that you always have, you just may have to get it done more frequently.
Key Takeaways
Patients with braces can continue to get their teeth cleaned regularly, similar to how they would without braces. The cleaning might just need to be done more frequently due to the braces.

A typical dental cleaning process for patients with braces involves an initial examination for signs of gingivitis and oral cancer, followed by a cleaning procedure. The cleaning process includes the use of a scaler to remove plaque and tartar, tooth polishing using a gritty toothpaste, flossing with a threader tool, and fluoride treatment.

Dental care at home is equally important as professional cleaning. Brushing teeth twice a day, flossing once daily, and using mouthwash regularly are recommended, even with braces on.

It may be necessary for patients with braces to visit the dentist more frequently for professional cleaning due to the increased difficulty of maintaining oral hygiene with braces.

Regular dental visits and adherence to the dentist's advice will ensure that oral hygiene is not compromised and desired results from the braces are achieved.
Whether you're wearing braces or not, a dental hygienist (not the dentist) will perform regular cleanings to improve and maintain your oral health.
Here are the steps you can expect during your cleaning appointment:
Dental Care Should Continue At Home
While getting professional dental cleanings is important, so is continuing at-home care. Daily brushing and flossing are essential whether you have braces or not. You should:
How Often To Visit The Dentist With Braces
Your oral hygiene is of utmost importance, especially when you have braces. Not only will they need to be tightened regularly, but you may need to undergo dental cleaning more often than when you don't have braces. This is only because it can be more difficult to clean between and under your wires and around your brackets. Professional teeth cleaning can also prevent unsightly white spots and help you achieve the attractive smile (and healthy smile) you've always wanted.
By scheduling regular dental visits and following the advice of your dentist and orthodontist, you can ensure your oral hygiene is never compromised.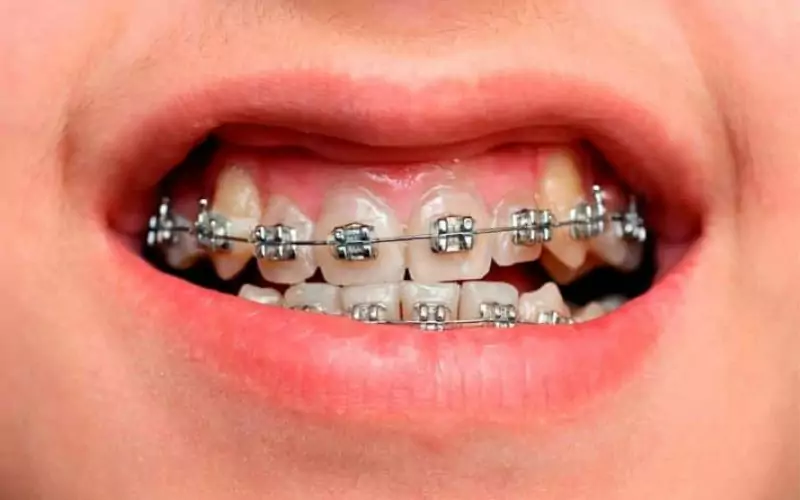 Frequently Asked Questions
1. How are teeth with braces cleaned by dentists?
Dentists use the same teeth cleaning techniques for patients with braces as for those without. However, cleaning may take slightly longer due to the need to clean around the hardware. Dental hygienists use a scaler to remove plaque and tartar buildup around the gum line and metal brackets. This is followed by teeth polishing, flossing, and a fluoride treatment.

2. How often should I visit the dentist if I have braces?
If you have braces, you may need to visit the dentist for teeth cleaning more frequently than if you didn't have braces. This is because it can be more challenging to clean between the wires and around the brackets. Regular professional teeth cleaning can prevent white spots and help you achieve a healthy, attractive smile.

3. What steps are involved in a routine dental cleaning for patients with braces?
The steps include a thorough examination, scaling to remove plaque and tartar, teeth polishing with a gritty toothpaste, flossing using a floss threader to get under the wires, and a fluoride treatment for tooth protection.

4. What at-home dental care should I follow if I have braces?
At-home dental care for those with braces should include brushing teeth at least twice a day, flossing once a day, and rinsing with mouthwash daily. Your dentist can provide you with the proper tools for flossing around the metal wires and brackets.

5. Can I use mouthwash if I have braces?
Yes, you can and should use mouthwash if you have braces. Contrary to popular belief, mouthwash does not harm the metal brackets or wires. Instead, it can kill cavity-causing germs and help freshen your mouth.
Need To Book A Cleaning Appointment?
Our dentists in Hamilton, Ontario are dedicated to helping patients of all ages improve and maintain their oral health. Conveniently located at 684 Main St E, Hamilton, ON L8M 1K5, our dental office provides an array of services including orthodontic treatments. Our general dentists are skilled in assisting patients who wish to straighten their smiles, close gaps in their teeth, and align their jaws.
In addition, we prioritize regular dental cleanings and can schedule appointments that fit into your busy life. Our commitment to personalized care ensures that your visit will be as comfortable and enjoyable as possible. Whether you're considering braces or are interested in exploring our other services, don't hesitate to reach out to us.
Contact our dental office at 905-545-4833 to book an appointment. We eagerly anticipate the opportunity to contribute to your oral health and brighten your smile!
Latest posts by Dr Christopher Sims
(see all)