If you have started to notice your teeth are starting to look stained or darker, and are looking for ways to get rid of yellow teeth, there are a few treatments to consider. There are three main options, which include home remedies, over-the-counter treatments, and professional whitening under the care of a dentist.
Knowing what causes yellow stains will help you know how to get rid of yellow teeth. It is important to know which of these factors is the cause of your specific yellowing, because otherwise, you may choose a remedy that won't help at all, or may make your situation worse.
There are a few reasons for discoloured and yellowing teeth. Surface stains from deeply coloured foods like coffee or red wine, or from tobacco products, can build up causing yellow teeth. Certain medications will also darken teeth.
Also, as we age, the outer enamel of our teeth wears away, so the yellowish dentin that lies under the enamel starts to show more.
Some yellowing is a result of plaque buildup. It can be an early indicator of tooth decay, plaque-related gingivitis, and other oral health problems. Trauma to a tooth can also cause discolouration.
Home Remedies To Whiten Teeth
There are several at-home or natural remedies to remove surface stains and whiten them. They may be tempting to try, as they are cheap and easy, but results are faint at best.
There can also be some risks to trying these, as they may actually aggravate your situation. If the remedy doesn't address the specific cause of your yellow teeth, it won't help, and, in some cases may worsen it and damage teeth.
The first method is to take one tablespoon of baking soda and one tablespoon of hydrogen peroxide and make a paste to brush with, rinsing thoroughly afterward. Watch out for sensitive teeth afterward, and be careful not to over-bleach, which can cause problems for your enamel.
Apple cider vinegar can help in very small amounts as a mouthwash. However, the acidity may be damaging to tooth enamel, and aggravate the problem if the cause of your yellowing is from thin dentin. Enamel is eroded, making it more vulnerable to wear, decay, and even more staining.
Rubbing lemon or orange peel on your teeth for a couple of minutes a day can help whiten teeth but again, the acidity is harmful to enamel.
Activated charcoal can scrub away surface stains as it is absorbent. Simply brush with a small amount of activated charcoal for two minutes. This method may be overly abrasive on tooth enamel, and this technique only removes surface stains by scrubbing them off.
Some people suggest coconut oil pulling as a way to remove plaque and bacteria to whiten teeth naturally. It is safe, but there isn't enough scientific evidence yet on its effectiveness. Just swill coconut oil around your teeth and mouth for about half an hour. After spitting it out, rinse it with water. Finish by drinking more water and brushing your teeth.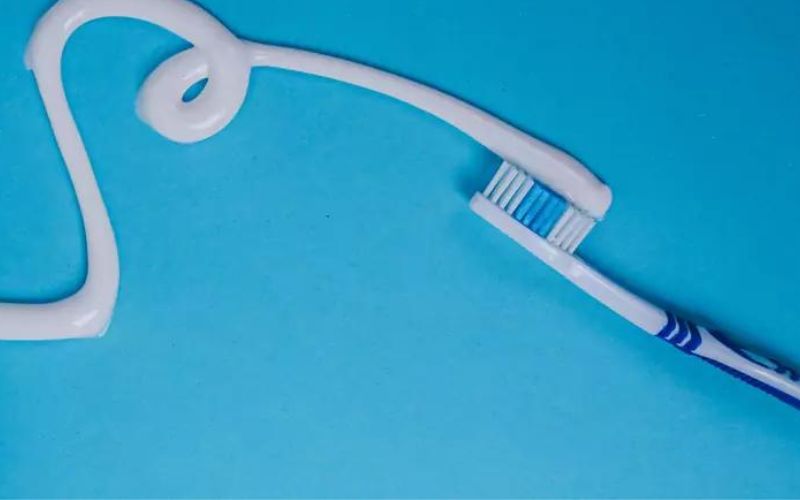 Over The Counter Tooth Bleaching and Whitening Toothpaste Options
A whitening toothpaste can help with extrinsic stain removal, for whiter teeth. It is a good solution for milder surface staining. You should always brush your teeth after consuming dark-coloured foods or beverages, regardless of whether you use a whitening toothpaste, to keep teeth clean and so the foods do not stain teeth.
At-home teeth whitening products contain carbamide peroxide or hydrogen peroxide to remove surface stains and bleach teeth. Usually, this involves brushing the gel onto teeth or applying it to the teeth in a tray for 30 to 45 minutes daily, for several days. There are also versions where the peroxide is added to tooth whitening strips that are placed directly on teeth.
Caution should be used to not over bleach teeth with peroxide products, as the outer enamel wears away more, exposing the dentin and soft inner tissues, and leaving you with even yellower teeth.
Check With a Dentist Before Beginning a Treatment at Home
It is best to check with a dentist before starting any tooth whitening products or at-home whitening remedies, as it is crucial to make sure your teeth are healthy enough to handle the treatment. You also want to be sure that the treatment will actually fix your teeth' stains. If your yellowing is due to plaque buildup and tooth decay, home remedies and over-the-counter solutions won't help and you could end up with bigger oral health issues. A dentist can ensure you are free from gum disease and tooth decay before starting treatment, so you maintain healthy teeth and gums.
Professionally Whitening Teeth
Getting professional teeth whitening is recommended if you want immediate, noticeable results. Professional strength products have the most dramatic effects on getting teeth whiter. For deep stains and seriously discolored teeth, professional treatments are best.
It is also recommended to whiten professionally to reduce the risks of causing tooth sensitivity. Professional whitening is safer for your oral health in general since it is done with the supervision of a dental professional.
Professional whitening will give you a bright smile while keeping your enamel healthy. It can either be done in-office, or custom trays can be given to you with a whitening gel to do at home. Your dentist ensures this is the right treatment for you, to give you the best results.
Whiter Teeth, Safely and Quickly
Century Stone Dental cares about your teeth and oral health. We ensure you have optimal dental health because keeping your teeth healthy helps with a beautiful smile.
We know it is important to you to have beautiful, whiter teeth, so we offer three ways for you to get the results you want while keeping your mouth healthy. Get the fabulous teeth you are looking for, with our professional toothpaste, the office, or at-home tray solutions; we will have you smiling again in no time.
Latest posts by Dr Christopher Sims
(see all)